Hello, my name is Gavin and  I want to introduce you to  a Counselor, Mr. Louis Davison. " Mr. D " is one 12 counselors we have at  TOCC but Mr. D is special. This man has worked for Miss Ava,  the Science Lady for 17 years and teaches 3 certain camps. The 3 camps that Mr. D. teaches are Rock Hounds, Who Dunnit?, and Roughing It.
If you had been in Mr. D's camps , you might have met his wife, Katie, whom we call Mrs. D. Mrs. D. teaches Who Dunnit? but with the help of her husband. Mr. D really teaches Roughing It and Rock Hounds. He just helps with Who Dunnit?
When Mr. D teaches Roughing It, he takes campers to Inner Peaks on Monday, Crowder's Mountain on Tuesday, Cane Creek to go canoeing on Wednesday, and  does survival skills on Thursday and Friday.  You all know that Roughing It has a sleep over on Thursday night, right? Well in all his years, Mr. D has only missed 2 sleep overs. Mr. D cares for the children in the camp as if they were  his own and works hard to make sure everyone has a good time.
Mr. D  teaches you about the rock formations and different types of rocks. Mr. D also shows the campers the rocks that he has collected when he has taken the  Rock Hounds to the Emerald Gem Mines at Hiddenite, NC.  where they go sluicing, creek mining, and surface mining. Just the same as in Roughing It, Mr. D. cares for the campers and makes sure they are  all safe.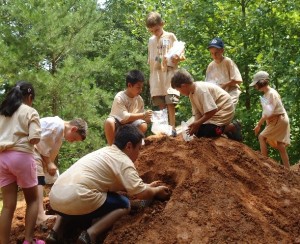 This is a sad day because Mr. D will not be coming back to TOCC until next summer to work for Miss Ava. This is the first time  that Mr. D has had to leave the camps early. Mr. and Mrs. D. are expecting a baby girl very soon. This Daily Blog is dedicated to Mr. D and Mrs. D to say :CONGRATULATIONS and farewell. See you next year!