Hey My name is Gavin and today I'm looking at a counselor that has been my teacher and a co-worker. Her name is Michelle. The camps she teaches are Dissecting Critters, Leaping Lizards, Rockets and a new camp that came out this year called Eco Team.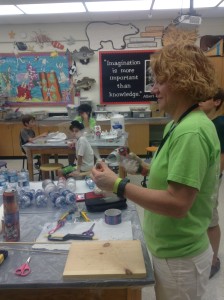 Miss Michelle is a good teacher with a lot of passion for learning. She express her emotion like a caring mother and makes sure that the kids are always safe.
Miss Michelle can be a joker too, kidding around with the kids. She has been working with Miss Ava for 11 years out of the 22 years that Miss Ava has operated TOCC. During the school year, Miss Michelle teaches 8th grade science at E.E. Waddell Language Academy.