Hey there guys. My name is Gavin and today I'm looking in a mirror and writing a blog about myself.
I am  14 and a half years of age and will turn 15 at the end of summer. I have only been working for Miss Ava for a few weeks. She is my grandmother.
I work as the daily blogger and I.T for Miss Ava's website missava.net.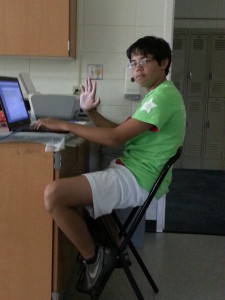 Its a real honor to be working for Miss Ava.  My only regret is not participating in  the awesome new camps I see including Great Engineers, EcoTeam, Safari Adventure. I have done all the rest. My cousin, brother, and I have done Ooze, Glop,& Slime, Building Dinos, Catching Critters, Space Cadets, ZAP! Electricity, Rock Hounds (several times), Rockets, Roughing It(several times) and I have ever done Dissecting Critters.