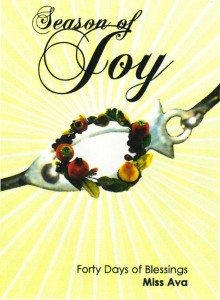 You will find yourself "happy tearing" over this collection of inspirational stories recounting the blessings that poured out on author Miss Ava during a forty day period.
Editorial Review from Westbowpress
In Season of Joy, the author weaves together her love for helping people and teaching children, her passion for God's Word, and her life experiences. She candidly describes her struggles, such as death in the family, a house fire, and dealing with the drug addiction of a loved one. However, the author keeps her focus on God's plan in all things—and in doing so, encourages the reader to look for God's plan in his or her life as well. This book will resonate with those who have faced—or are facing—difficulties in life and need to be encouraged that God is with them. The encouraging stories in this volume and ample Bible verses given will prove to be uplifting for those who struggle
For speaking engagements or
book signings
Contact Miss Ava at 704-942-8817.
Prices
E-copies: $3.99
Paperback copies: $11.95
Hardback copies: $28.95
3 Easy Steps to Place Your Order
Step 1: Click on the link below
Step 2: Click on "Bookstore"
Step 3: Enter the title "Season of Joy"