Hands on Science Activities for Ages 5 – 9
Step by Step instructions for Experiments
Aligned with the National Science Education Standards
Affordably priced at $1 per page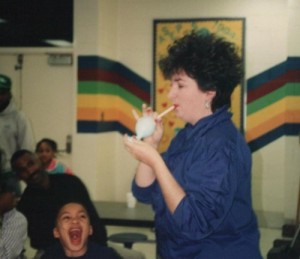 Miss Ava, known as "The Science Lady",  has been offering hands on science programs in the Charlotte area since she founded The Original Curiosity Camp on June 14, 1993.  Parents are thrilled because their children learn so much AND there are lots of fun make and take activities.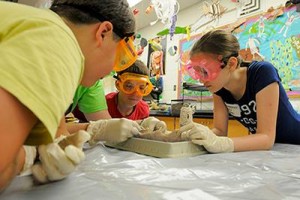 Since then she has taught over 200,000 children in more than 100 schools. Together they have made gooey substances, erupted volcanoes, climbed mountains, gone canoeing, searched for rocks, built models of dinosaurs and cities, caught critters on land and in the water, and slept under the shark tank at Ripley's Aquarium.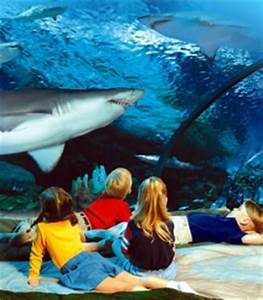 Because of the Corona Virus Pandemic and social distancing, Miss Ava is offering some of her most popular programs  as DIY Science to children who would like to do all the hands on science activities in the safety of their home and to educators who have access to a facility where they could, teach small groups of children. Ironically Miss Ava started her business by teaching children ages  in 5 – 10 in groups of 10 so she knows the benefits of doing so from experience.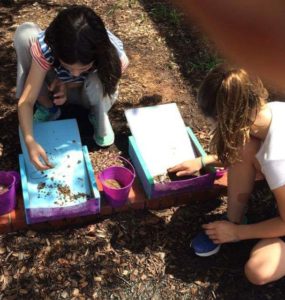 Each camp package includes
Title Page                                                           
Flyer (for Teachers)
Supply List
Registration (For Teachers)
Roster (For Teachers)
Daily Lesson Plans for the Week
Step by Step Directions
Links to experiments and activities
Worksheet
To place an order
Go to http://paypal.me/missavasciencelady  to submit your payment OR send your payment through ZELLE at 7049428817.  Mention your name in your transaction
Then email missava@missava.net and list the names of the DIY Science you are ordering.
Miss Ava will  attach the camp packages you are ordering in her response to your email.
Building Dinos
Building Dinos………………….$28……………………..NSES: A, C

Journey back in time when T-Rex ruled the Earth. Imagine going outside and running into a dinosaur as tall as a telephone pole or as long as a football field. Discover how paleontologists learned about these giant creatures by studying fossils.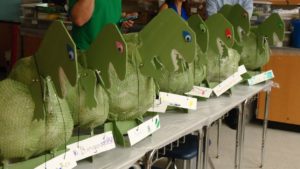 Use Plaster of Paris to make a fossil print. Identify fossils from the Aurora Fossil Museum.  Each camper will construct a 3 foot tall model of a T-Rex outlining its bones and internal organs. Projects include:
Building a model of a T-Rex
Making a fossil print
Identifying fossils
Making a dino door hanger
Catching Critters
Catching Critters………………$33……………………..NSES: A, C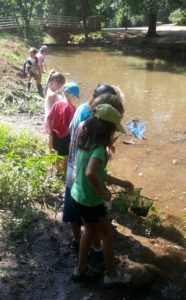 Fascinated by bugs that can change from a caterpillar into a butterfly………..what!!!!!!!!!!! or a worm that morphs into a beetle? What about water striders that can skate on top of the water? That's crazy cool.
Children will search for insects like grasshoppers and beetles that hide in the leaves of trees and shrubs or burrow in the dirt. They can go to a neighborhood park  to catch and release critters that live in a shallow stream. Students can buy mealworms and painted lady larvae that go through metamorphosis.
 Projects include making a:
Stuffed insect to show its 3 body parts
Mealworm container
Butterfly habitat
Paper bag puppet
Earth Buddies
Earth Buddies…………………..$45……………………..NSES: A,C,F

What do cheetahs, zebras, and giraffes have in common? Their numbers are dwindling. Everyone can reverse this by recycling, reusing, and reducing to save Mother Earth, her natural resources and her inhabitants.
Earth Buddies raises awareness by teaching  about endangered species. Children choose an animal to paint beginning with their own hand print and ending with a mat showing its skin pattern.  Totally awesome…..completely frameable.
 Other projects include:                                                                              
Decorating a clay pot
Making a mega crayon from old crayons
Leaf prints
Animal prints
Future Builders
Future Builders…………………$41…………………….NSES: A, B, G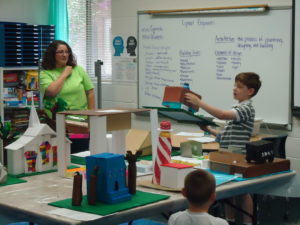 If you can dream it, you can build it. This camp gives each child a unique opportunity to envision something, make a drawing of it using pencil and paper, and then build a scale model of it. This is a week long project. Children can work together to plan a community, each taking responsibility for constructing what they believe to be an essential part of it.
Since the Corona Virus pandemic in March 2020, we have learned that essential businesses include medical facilities, grocery stores, homes, and hardware stores. Nonessential businesses include movie theaters, entertainment venues, schools, florists, beauty salons, sports events, and churches. To avoid spreading the virus, everyone was asked to practice social distancing, wear gloves and face masks, and stay home unless there is a real need.
They learn about famous contributors like architect Frank Lloyd Wright and engineer/architect Gustave Eiffel. By studying the infrastructure of homes, the Statue of Liberty, and the Eiffel Tower, campers learn how to think outside of the box.
Learning concepts include:                                         
Kinds of Architecture
Styles of Architect
Artistry & Design                                                                            
Nature's Art
Nature's Art…………………   ..$30…………………….NSES: A, B, D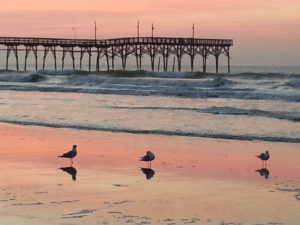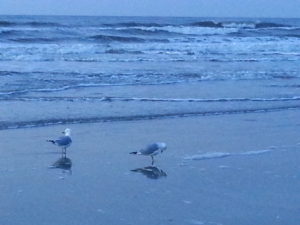 Are your eyes playing tricks on you? These two photographs were taken at the same time in exactly the same spot. What??????  The first was taken facing the pier. The second one was taken facing the other direction. Light is just one of Mother Nature's wonderful mysteries.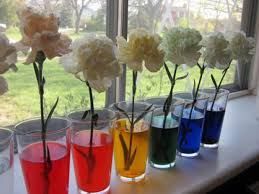 Children learn about light and color, how to make natural dyes for fabrics, flowers, and sand, and use stone and glass to decorate. Projects include:
Making a wall hanging out of fabrics dyed by hand
Painting a bird house to put in their bird sanctuary
Decorating a t-shirt demonstrating negative and positive space
Designing a sand art
Decorating with glass and stones
Ooze, Glop, & Slime
Ooze, Glop, & Slime……… .$37……………………..NSES: A, D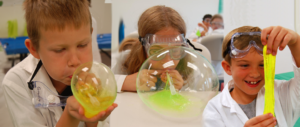 In the beginning, there was Ooze, Glop, & Slime. Still everyone's favorite way to get messy. Children mix ordinary kitchen ingredients to make extraordinary concoctions that they can squish and squash between your hands, dribble off the tips of your fingers, or change color when exposed to heat or cold.  Squeals of joy emerge as youngsters blow bubbles in their Glop or watch their volcanoes erupt.
Students learn about gases, liquids, solids, and plasma, the four states of matter. Parents are amazed at how much their children know about atoms and molecules in just one week. Projects include making:
Ooze (also known as Dr. Seus's Oobleck)
Glop (a substance made with glue and Borax)
Slime that changes color
Identifying acids and bases using an indicator
An erupting volcano
Rocket Launch
Rocket Launch…………………..$19……………………..NSES: A, B, D, G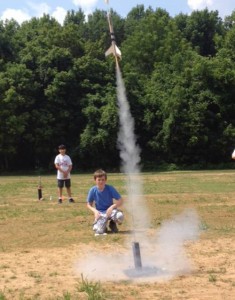 Five…………four………..three………….two………….one……………BLAST OFF!!!!!!!!!!!  Watch your Alpha III climb to heights of 600 ft. before the parachute deploys and it drifts back to the ground hopefully just several yards from where you are. Be sure to aim into the wind so it won't get swept away.
Build your own launch pad and igniter using a battery pack, split wiring, and alligator clips. The Alpha III is a level 1 rocket perfect for launching on a football field or in a city park. No special license required.
Projects include:
Building an Alpha 111 Rocket
Building an igniter
Building a rocket launch pad
Rock Hounds
Rock Hounds……………………$55…………………….NSES: A, D, G
Intrigued by colored rocks, rocks with lines and layers, rocks with holes in them, rocks that sparkle, beautiful crystals, geodes (rocks formed from bubbles trapped in the Earth), or rocks that came out of a volcano? Rock hounds are. Toddlers, kids, teens, adults, and even old timers can work side by side in search for that one special stone more magnificent than the last 3.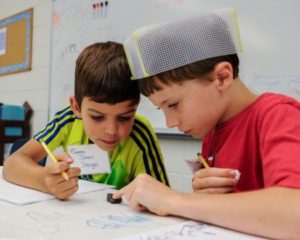 Mr. D., Miss Ava's employee,  and Miss Ava started their collections over 20 years ago with just a handful of gemstones. Now they each have boxes and boxes of rocks. They are displayed in their classrooms and in their homes. Their children are collectors as well. Mr. D's latest addition is a meteorite from Northwest Africa. Miss Ava's is a stone from the Great Wall of China, a gift from a friend traveling to East Asia. Can you even imagine?
Campers participate in mineral tests to determine color, cleavage, and magnetism. They will learn how to identify sedimentary, igneous, and metamorphic rocks.   Projects include:
Dyeing a t-shirt in red mud for collecting
Decorating a collection box
Making a sieve for river collection
Constructing a portable sluice
Painting a pet rock
Safari Adventure
Safari Adventures…………….$36…………………….NSES: A, C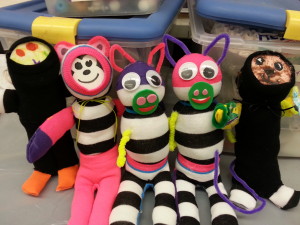 Did you know that there are only 2 Northern White Rhinos in existence?  It is important that students learn how to take care of endangered animals and their environments so they do not become extinct.
Learn the difference between wild, exotic, and domestic animals. Projects include:
Identifying animal tracks
Making a cast of an animal footprint
Building a diorama
Sewing a sock puppet
ZAP! Electricity
ZAP! Electricity…………………$28…………………….NSES: A, B, G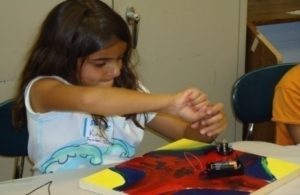 Learn about static electricity and current electricity. Design and build your own circuit board using simple tools to mount buzzers, lights, motors, and a battery pack. This is a week long project.
  Learning concepts include:
Static and current electricity
Conductors and insulators
Series and parallel circuits